As the world strives to regain some normalcy, for many people, a gradual lifting of lockdowns means a return to offices. For more than a century, workers have endured the daily commute to offices and toiled away their hours in a designated workplace.
In the spring of 1822, Charles Lamb, an employee of the East India Company (which created some of the world's very first offices) wrote in a letter to a friend:
"You don't know how wearisome it is to breathe the air of four pent walls, without a relief, day after day, all the golden hours of the day between 10 and four."
For most of the world's office going workforce, the situation a little less than two centuries after the time of Charles Lamb was much the same. COVID-19, however, replaced office cubicles with kitchen counters, dining room tables, and living rooms. Thus, the daily commute, on crowded public transport and traffic-congested roads, became a thing of the past. Now, as offices around the globe slowly become functional again, the question arises: In a post-pandemic world, will office spaces ever be the same?
The simple answer to this question is: NO! The Coronavirus lockdown has changed the way many people work and has demonstrated that a considerable amount of tasks can be accomplished outside of the traditional office space. Moreover, it has led to many organizations adopting flexible working hours and relaxed schedules, making employees realize that they can be more productive at home if provided with the opportunity. However, the future of office space is not all black and white, and while employees have certainly enjoyed many benefits of working at home, there have also been quite a few limitations. Therefore, to truly understand what the future holds for offices, we must carefully examine past and current trends.
The Shift to Telecommuting
Rising rents, increasing demands for flexible working hours, and the boom in technology meant that even before the virus struck, working from home was gaining popularity during the past decade. A couple of years ago, at least 25% of employed Americans worked from home some of the time. This figure increased during the pandemic, with the percentage of employed adults working from home due to COVID-19 rising from 31% in mid-March to leveling off at 62% in mid-April, according to Gallup Panel data.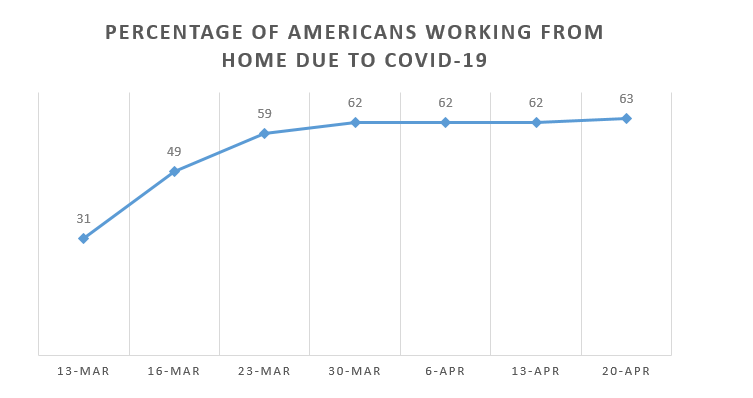 The contagious nature of the virus and the need for social distancing have brought about the large scale adoption of the work-from-home model much sooner than most anticipated. Big tech giants such as Twitter, Facebook, and Google have taken the lead in adopting the new model by announcing that they will allow all of their employees to work from home until at least the end of 2020.
Jack Dorsey, the CEO of both Twitter and Square, informed his employees that they could continue working from home "forever." This was followed by Mark Zuckerberg, the CEO of Facebook, announcing that his employees can also work from home, with the caveat that people who relocate out of San Francisco to a lower-cost city may have to take a pay cut to account for the decrease in expenses.
Perhaps the most important announcement so far is the one JPMorgan, the world's biggest Wall Street bank by revenue, made on August 25th. The company declared that they are implementing a "rotational model" for their corporate and bank employees, which number around 60,000 workers. The rotational model combines working from home on a part-time basis with a rotation cycle for employees to come into the office certain days per week or certain weeks per month. As JPMorgan is one of the largest lessors of Manhattan office space at 5.2 million square feet, its new rotational model might lead to the company rethinking the need to maintain its expensive real estate portfolio. Moreover, as an industry giant, JPMorgan's announcement will apply pressure to the rest of the industry to follow suit in providing flexible working options to employees.
Benefits of Working from Home
Working from home has allowed employees to avoid the daily hassle of commuting to work, as well as let them care for their homebound children and family members. According to a survey conducted by Gallup, 59% of U.S. workers who have been working from home during the pandemic would prefer to continue working remotely as much as possible, once public health restrictions are lifted. In contrast, 415 would prefer to return to their workplace or office to work as they did before the outbreak.
Moreover, with the need to commute drastically reduced, people were able to move to less populated suburban areas to avoid urban hotspots of the disease, while still being able to perform their jobs properly. This relocation to sub-urban areas will impact both the real-estate sector as well as the future of office space.
Single-family rentals in sub-urban areas have experienced low- to mid-single-digit growth in new leases and higher occupancies since the lockdown was first implemented. Urban multifamily REITs, on the other hand, have seen occupancies declining and new lease growth decreasing year-over-year in May.
David Singelyn, CEO of SFR REIT American Homes 4 Rent, stated during his company's presentation:
"Once [people are] in the single-family homes, they're finding they have more space, and this facilitates a better work from home environment."
According to Big Byte Insights', data the year-over-year difference in the new lease growth of multifamily and single-family properties from January to August 20th, 2020. Since the implementation of stay-at-home ordinances, single-family homes have been outperforming the multifamily apartments in Florida and Texas.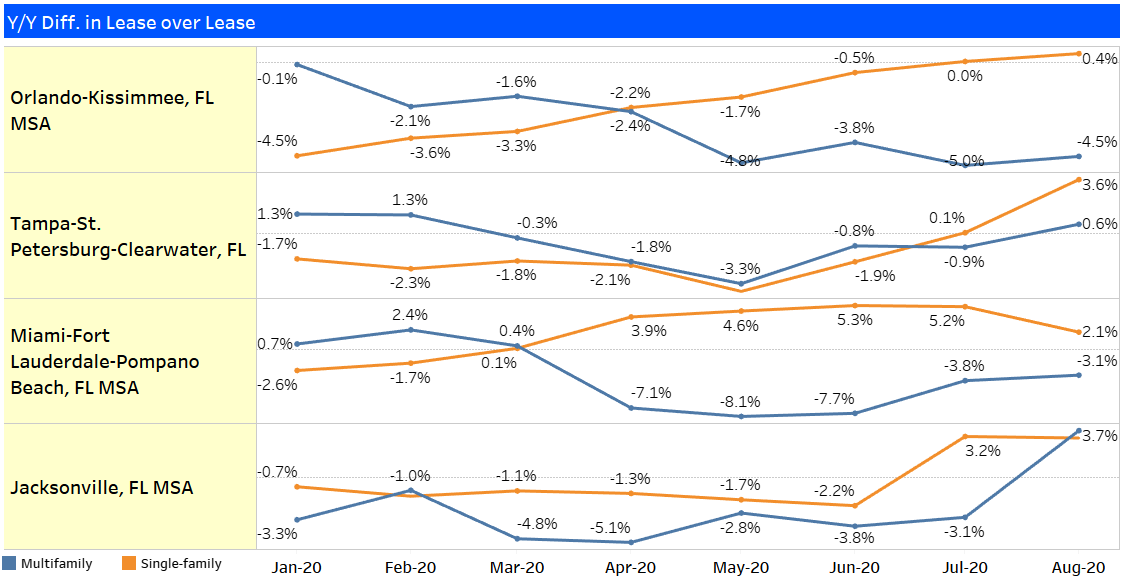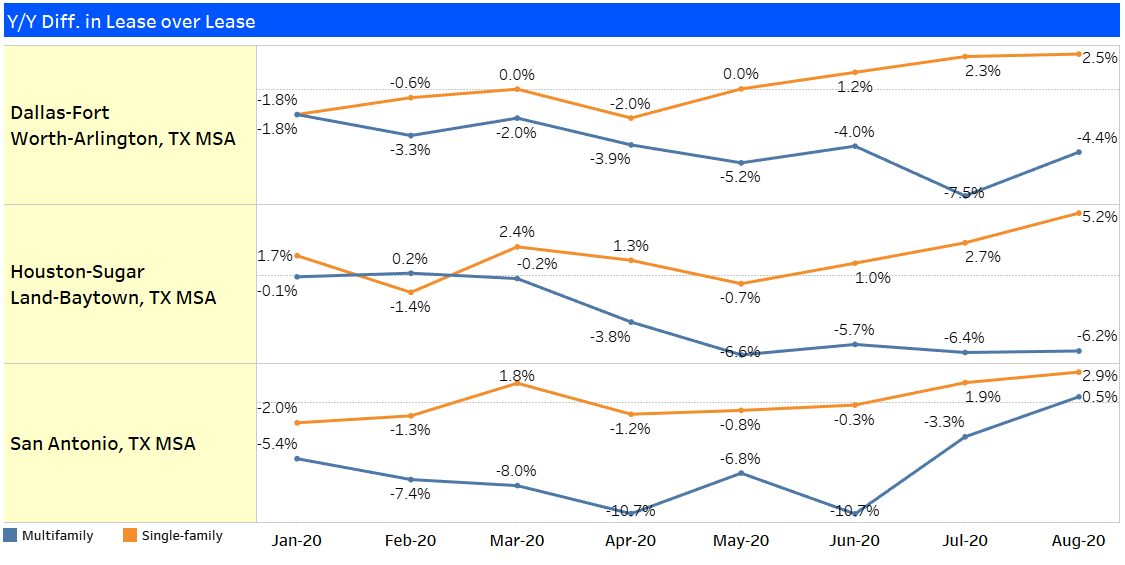 Source: Big Byte Insights, Ltd.
The animation created by Big Byte Insights below, displays the decline in multifamily rents in the metropolitan cities of New York and San Francisco.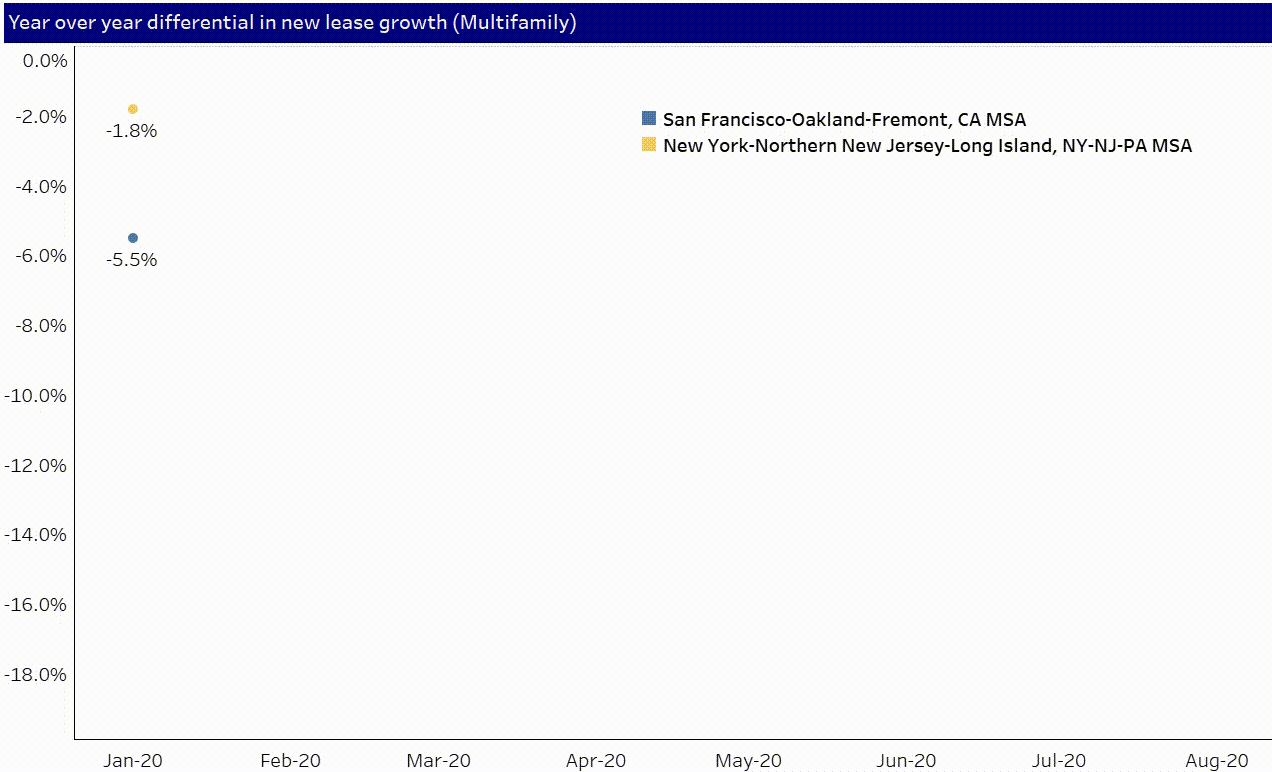 Source: Big Byte Insights, Ltd.
This trend means that offices located away from densely populated areas, at risk of viral outbreaks, are more likely to be able to start functioning normally as opposed to those in urban city centers. Moreover, Suburban Office REITs are a cost-effective alternative to Gateway/CBD office space; thus, in the aftermath of COVID-19, organizations might open smaller office branches in suburban areas.
Ryan Severino, Chief Economist at Jones Lang LaSalle, said:s
"For many years, suburban office space fell out of favor because of the resurgence of U.S. cities. Is this COVID-19 crisis going to spur renewed interest in suburban markets, as households and employers move out of cities? Time will tell."
Moreover, if employers choose to retain the work-from-home model, then organizations will gain the benefit of a diverse workforce belonging to different locales as those living away from the head office will not need to commute often.
During a discussion about the future of office space, David Auerbach, a real-estate expert with decades of experience in the REIT space, told Big Byte Insights:
"From a public market perspective, there really aren't that many publicly-traded REITs that have a huge focus on suburban office. So, this could be an opportunity for some of these guys, potentially, to pick up a sub-urban portfolio and start developing suburban office."
Limitations of Working from Home
While working from home has benefitted many, it does not come without any limitations. In a knowledge economy, an organization's success depends strongly on face-to-face interaction, collaboration, and serendipity. Humans require social interaction, and while employees are making do with online encounters at the moment, work-related video meetings can often be transactional, awkward and unappealing, making it difficult to maintain and increase employee engagement.
Moreover, offices have always had an essential role in providing learning opportunities for younger employees. Often the development of these young people occurs through their daily interactions with more experiences employees rather than formal training alone. Additionally, office space also plays a significant role in how an organization is perceived and its ability to attract new talent.
Michael Holloway, general manager of property investment at Kiwi Property, one of New Zealand's largest real estate firms, believes:
"When you're trying to attract, retain, and nurture top talent, the workplace plays a really significant part in how people perceive a business."
This brings us to the next point.
The Future of Office Space
Keeping the advantages and limitations of working from home in mind, offices may transform into workplaces specifically designed to support the kinds of interactions that cannot happen remotely. Therefore, if an office's purpose is to become a destination for social interaction between employees, getting inspiration, and exchanging ideas, then more office space could be devoted to collaboration rooms rather than cubicles soon. This also means that organizations will require less office space.
Organizations might start using a portfolio of space solutions: owned space, standard leases, flexible leases, flex space, co-working space, and remote work. According to research conducted by McKinsey, satellite offices are expected to decline by 12 to 9 percent by decision-makers. In contrast, flex office spaces will remain constant, and work from home will increase by 7%. These flex office spaces could potentially reduce real estate costs by 30%, while those that shift to a completely virtual model can eliminate them.
While sub-urban offices will be able to return to normal functioning much quickly than urban ones during the pandemic, after the pandemic, smaller offices in vibrant urban centers might be preferred. These smaller urban offices would provide the ideal location for social interaction and idea generation. Moreover, a partial work from home model will benefit employees who previously struggled with setting a good work-life balance in expensive metropolitans such as New York City.
Office Designs
While the increasing preference for virtual working might result in the need for less office space in the future, the immediate impact of the Coronavirus is quite the opposite, i.e., the need for more space. Due to the social distancing requirements and the threat of contagion, organizations will be scrambling to arrange more space per employee, and those that are unable to do so are likely to continue working virtually.
However, once the pandemic is over, various office designs could be preferred. To attract workers, offices will need to have safe working environments. This could lead to offices that share common elements with hospitals such as hygiene stations or filtration systems that use ultraviolet light.
While talking to Big Byte Insights, David Auerbach, stated:
"The office landlords are going to be spending tens of thousands to millions of dollars upgrading their properties in HVAC, security, thermal temperature readings, or elevator designs. There are so many things that are to happen. Landlords may be able to charge higher rents down the road –not today, but down the road– because they can use that as a selling point."
The "hotelization" of office space is likely to accelerate, to remain an attractive alternative to working from home. Thus, offices with a cozier, more spacious ambiance are likely to be preferred by employees.
Conclusion
The future of the demand for office space is one filled with uncertainty. Should the Coronavirus outbreak not abate, the demand for office space could increase to implement social distancing protocols in office buildings. However, this largely depends on the extent to which organizations continue to adopt work from home policies. If a majority of employees continue to work remotely, organizations might rethink the amount of space they need and lean towards reducing their real-estate footprints.
However, while the impact of the pandemic on office space is uncertain, its impact on workplace designs and location will be considerable. Offices will be regarded as centers of collaboration and creativity, to be visited only a few days a week. This might result in companies choosing smaller suburban offices, spread out across the country, or smaller urban offices that are located in central areas to attract employees.
Therefore, despite the uncertainty that shrouds the future of office space, it is almost certain that the role of offices, and the way we work, is bound to change forever.